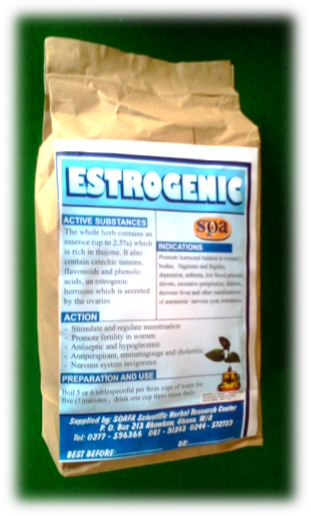 ESTROGENIC
ACTIVE SUBSTANCES
The whole herb contains an essence(up to 2.5%)which is rich in thujone.It also contain catechic tannins,flavonoids and phenolic acids,an estrogenic hormone which is secreted by the ovaries.
INDICATIONS
Promote hormonal balance in women's bodies.Vaginism and frigidity,depression,asthenia,low blood pressure,shivers,excessive perspiration,diabetes,decrease fever and other manifestations of autonomic nervous system imbalances.
ACTION
-Stimulate and regulate menstruation.
-Promote fertility in women.
-Antiseptic and hypoglecemic.
-Antiperspirant,emmenagouge and choleretic.
-Nervous system invigorator.
PREPARATION AND USE
Boil 5 to 6 tablespoonful per three cups of water for five(5)minutes,drink one cup three times daily